Do you have aspirations to make a positive difference to the way the world is viewed? Would you enjoy the challenge of working with different media platforms, on a diverse range of branding and promotional projects? Do you want to develop a portfolio of work that showcases your unique personal style and creative signature?
This exciting course is led and taught by experienced creative directors with industrial experience and who set a commercial tone in teaching, briefing and appraising work. We will take you on a life changing journey to help you develop personally, intellectually, creatively, and technically. Having completed your honours degree, you will be design agency ready and able to work commercially prior to graduation or you may wish to continue your studies by undertaking Master's level study.

Student Work
Satisfy your creative thirst.
Our wide range of inspiring student projects aim to satisfy your thirst for creativity. The BA (Hons) Graphic Design programme encourages personal development, and you will have endless opportunities to produce exciting and commercially viable work that expresses your creativity and individuality as a designer. Achievement and a successful career in the digital design and branding industry will be the ultimate reward for your time spent studying with us.
Click here to download student work booklet (PDF)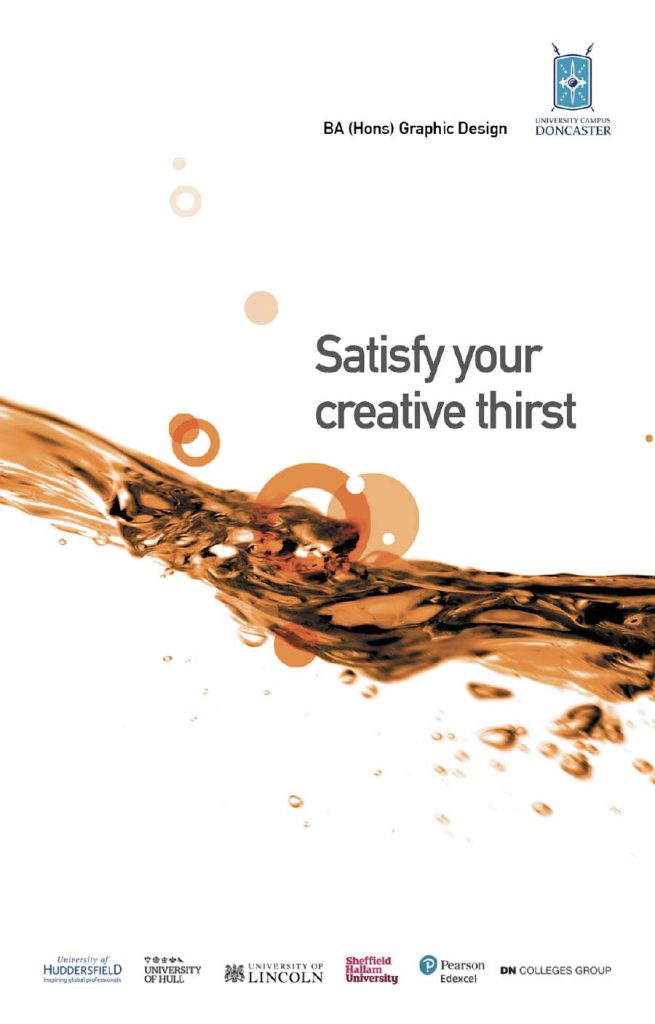 Project Development Journals
Peeling away the creative process.
Although physical sketchbooks are used for ideas generation, and experimentation with traditional techniques and materials, students on our degree course submit all of their work in a digital project development journal (PDJ). This includes everything they have produced, from research and development stages to their final outcomes. The digital format allows students to add, refine, and change the order of content, which is more difficult to do with a traditional sketchbook. The following examples demonstrate the ways in which our students work, and how they present their final project development journals for assessments.
Click here to download project development journal booklet (PDF)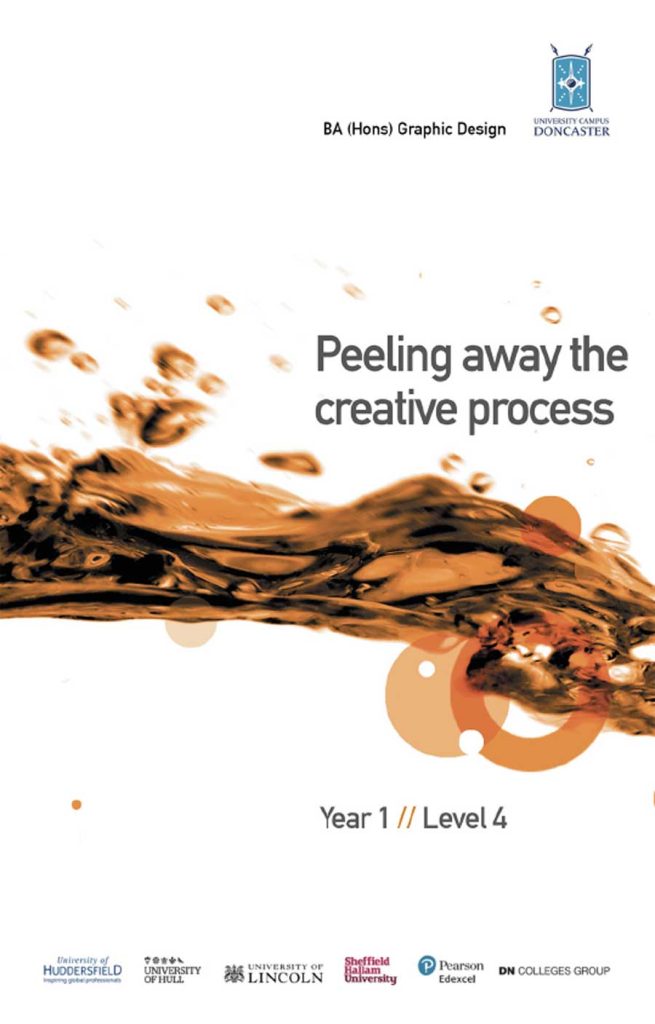 Portfolio Preparation
Portfolio flavour.
When it comes to attending a portfolio interview, preparation is everything. You should arrange your best work in such a way that it showcases your skills and allows you to speak confidently about each piece or project. Although we will spend time focusing on your creative abilities, we also want to find out more about you, your interests, and aspirations for the future. Our guidance booklet will help to ensure that your interview runs smoothly, and your work is well organised.
Click here to download portfolio preparation booklet (PDF)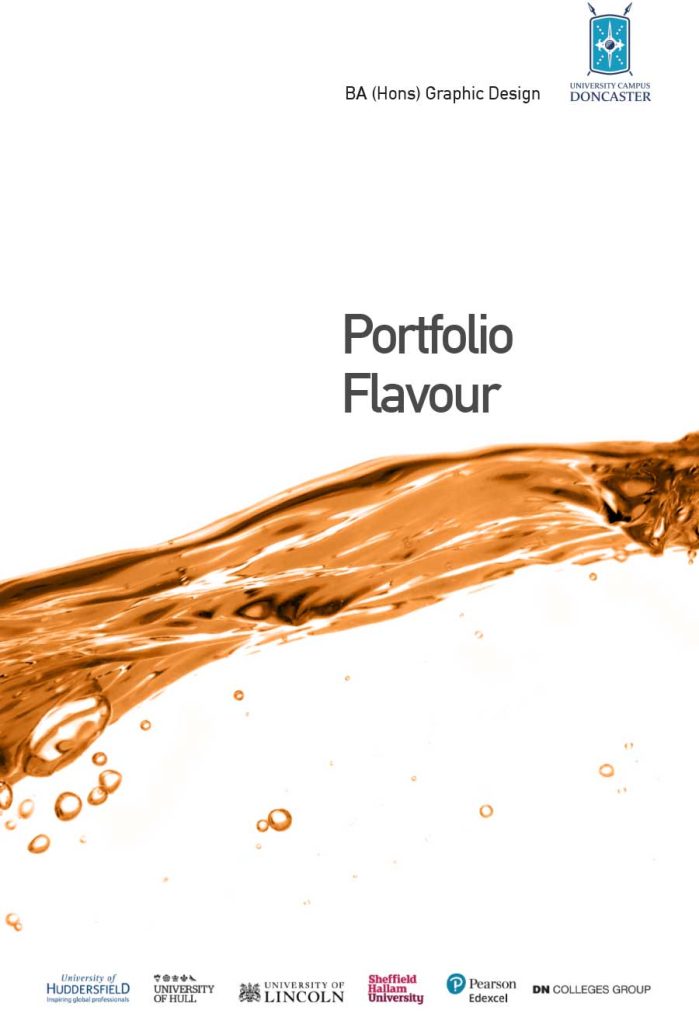 Alumni
Tasting success.
Your academic reward for three years of hard work and determination is a degree certificate that helps you to get 'a foot in the door' of the design industry. Although this is a requirement and a necessity for many employers, what they really want to see is evidence of your skills as a designer. This doesn't only include technical proficiency; they also want to know how you think, how inventive you are, how your work stands apart from others, and how interesting you are as a unique individual. Your work should speak for itself in terms of your passions, focus, and career ambitions. Our graphic design graduates work for a wide range of agencies, businesses, and organisations around the world. Here is just a small sample of their successes.
Click here to download alumni booklet (PDF)
Click here to view our alumni online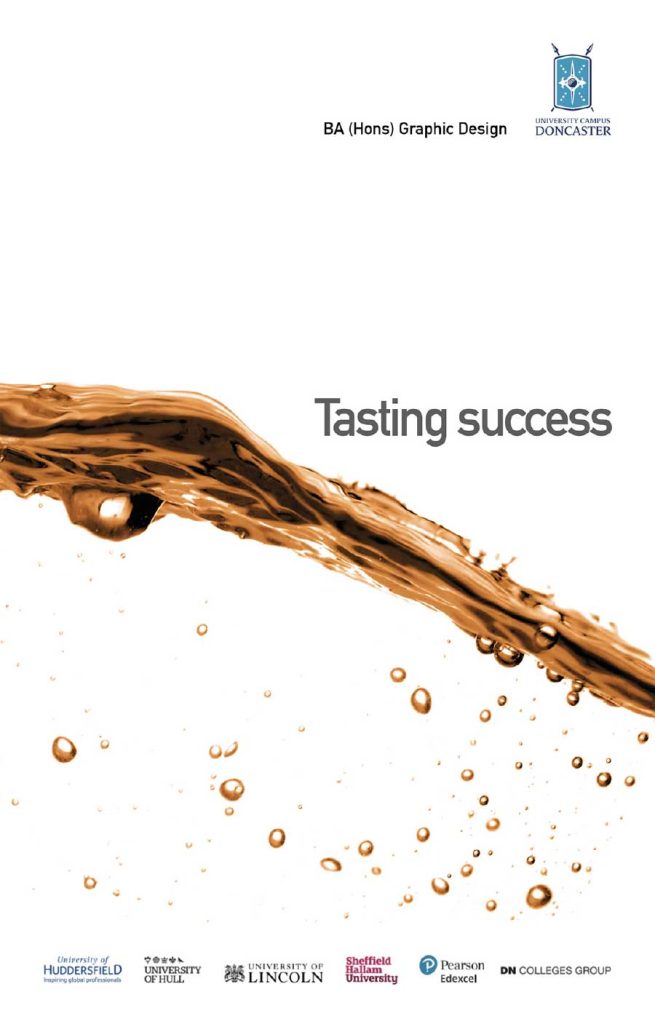 Final Shows
Celebrating every drop of creativity.
Our on-campus, end of year shows celebrates our students' hard work, when they showcase their designs and promote themselves to industry representatives and members of the public. The third-year degree students choose exciting Final Major Project themes and these result in stand designs that include physical, as well as digital artwork. Professional graphic designers are invited to our private view, when they can talk to students and learn more about their skills and career ambitions. The accompanying booklet shows the wide range of themes that our students have worked on. They will hopefully inspire you to follow the same path and aspire to gain employment as a successful graphic designer, after studying with us.
Click here to download final shows booklet (PDF)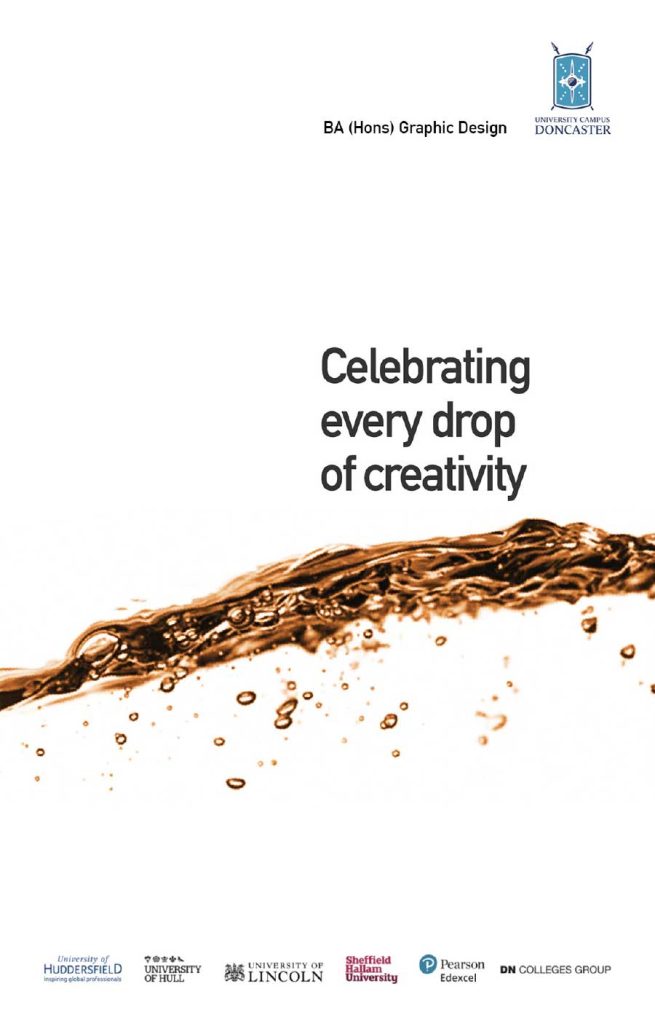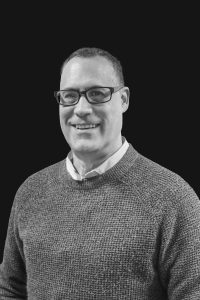 BA Graphic Design Course Leader
My main specialisms are advertising, branding, and visual identity design. I have experience of working on design projects for national/international education institutions, charities, and small businesses.
I attained my Level 5 Teaching Qualification in Education & Training in 2019 and went on to study a Bachelor of Arts Honours Degree in Education & Professional Development.