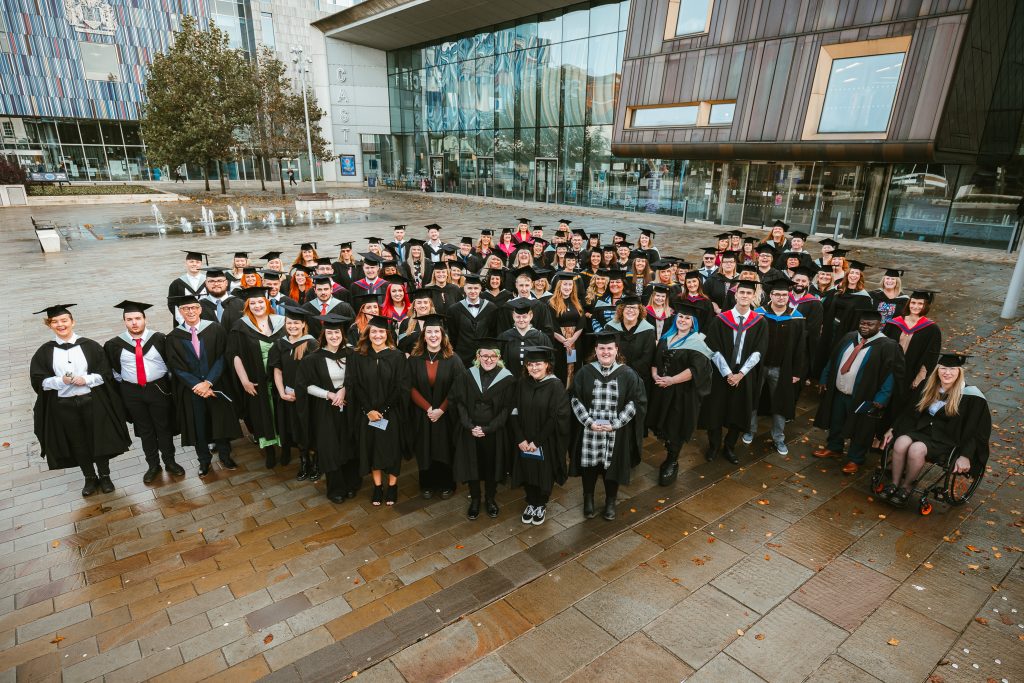 On Wednesday 1st November 2023 in a day marked by inspiring speeches and heartfelt moments which recognised the hard work, dedication, and achievements of its graduating students, University Campus Doncaster's class of 2023 gathered at Cast theatre in Sir Nigel Gresley Square in their graduation gowns for the ceremonies marking the end of their studies – and lots of hard work.
Joined by supporting family, friends, teaching staff, dignitaries from the Doncaster community and representatives from university partners including Sheffield Hallam University, University of Huddersfield, University of Lincoln and Hull University, over 200 hundred graduates gathered to mark their achievements.
John Rees, Principal and Chief Executive Officer, commented "First and foremost, congratulations to our graduating students! They have successfully navigated the challenges, both academic and personally, that have come their way over the few years, and I know that their achievements represent countless hours of studying, late nights, early mornings, and the unyielding commitment to their education and careers."
During the ceremonies, attendees had the privilege of hearing from guest speaker Noreen Nasim, a South Yorkshire-based Author, TEDx speaker, and Lecturer specialising in Creative & Digital Industries.
As a storyteller, historian, and advocate dedicated to preserving the past while inspiring present and future generations, her personal narrative touched upon resilience and importance of stepping out of your comfort zone by taking risks that will help you achieve your goals, whether they be personal or professional.
Karen Dainty, Head of Student Experience, Recruitment and Employability, summed up the sentiment of the day on behalf of all the University Campus Doncaster staff: "Congratulations, graduates! We are so pleased to be able to celebrate your academic success and personal achievements. Your dedication and hard work led you here and as you step into the future, may the skills gained pave the way for a successful career. Best of luck on your journey ahead!".