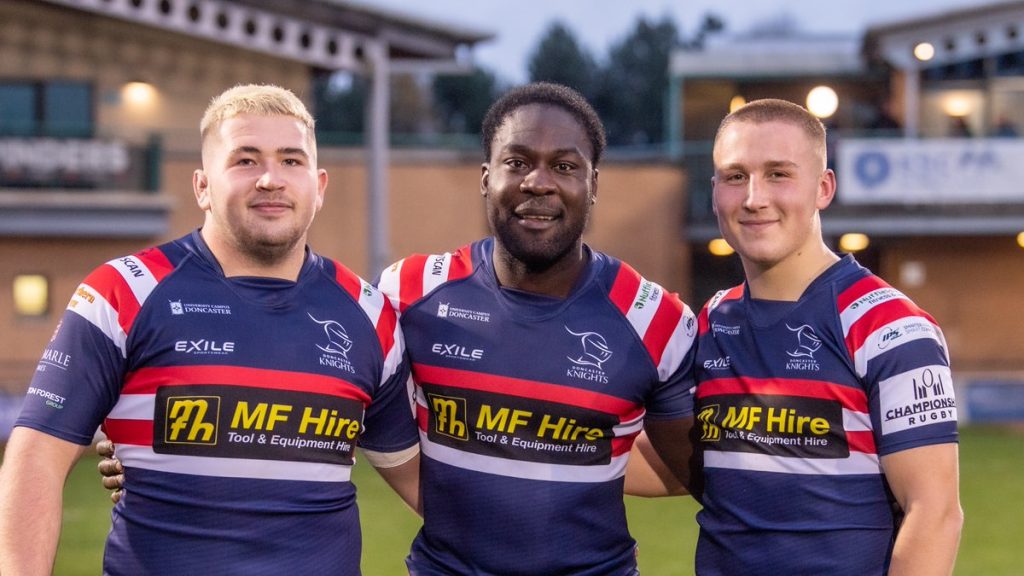 As Doncaster Knights launch their Championship Cup campaign, three of our UCDon student-athletes received call-ups to make their professional debuts.
Calvin Mitchell and Tom Parkin made their professional debuts in front of a home crowd on Saturday 5th November in the Knights first Championship Cup fixture and 22-7 victory against Coventry.
 While Academy teammate Will Metcalfe joined them on the list of 2022 debutants after making his appearance on the hour mark in the away game and 12-24 victory against London Scottish on Friday 11th November.
Academy Head Coach Tyson Lewis who took to the field alongside the rising academy stars said, "It's another great week for the Academy and a hattrick of debuts with Will stepping on the field with the first team on Friday night against London Scottish."
"The boys are all there on merit. They've worked hard throughout pre-season – in fact throughout the past two pre-seasons. They've been knocking at the door and it's just testament to their hard work that they get the opportunity to play."
The young prop, fly-half and scrum-half follow in the footsteps of previous Academy graduates the likes of Sam Jones, Sam Pocklington and current Knight Will Holling, in making the first step up from the Academy set-up.
Interested in finding out more about the University Campus Doncaster and Doncaster Knights study and play programme? Visit our events page to book your place at the next information evening.